Todaro Communications, Inc. is a full service Strategic Consultation to Management firm that specializes in Creative Solutions for your Corporate Brand or Company Product. With a focus on brand equity, TCI uses a proven, proprietary methodology to develop a higher Brand Retention and Call to Action for your target market.
Your business will be able to present and promote a more effective, consistent image across all media to your target customers and corporate decision-makers alike. You and your company will benefit by building your brand, increase identity and market share, therefore improving sales and profitability.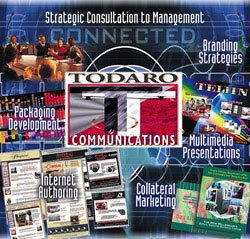 TCI is proficient in bridging brand identity seamlessly across many platforms from Traditional Print to Digital Media. Our founder and CEO is Tony N. Todaro, an internationally-known Strategic Consultant. He has strategized and produced successful assignments for a wealth of regional, national and international companies for over 25 years in areas including:
Strategic Consultation to Management
Brand & Corporate Identity
World-Class Design
Advertising and Marketing.